Welcome
Thank you for using Aeon's forum. Please make sure to read and follow our rules.
You are welcome to register in order to gain access to some useful parts of the forum. We especially recommend it if you are a guild leader or second-in-command. In that case we will add your account to the Leaders and SiCs group. This will allow you to give input on alliance policies, and monitor for complaints on alliance members, who could happen to be in your guild.
If you would like to join Aeon with your guild, please read about our requirements and application procedure.
Who is online?
In total there is
1
user online :: 0 Registered, 0 Hidden and 1 Guest
None
Most users ever online was
31
on Sat Aug 03, 2013 6:46 am
Not sure who was around to witness it but whoever has Undea in  their guild should seriously consider removing them from the guild. He was quite forward in his aggression towards aeon in our last engagements. Guard attacks us all the time and its cool. That's the whole purpose of percs anyway, but Undea's attitude in the perc fight and in our own /a chat undermines our whole purpose.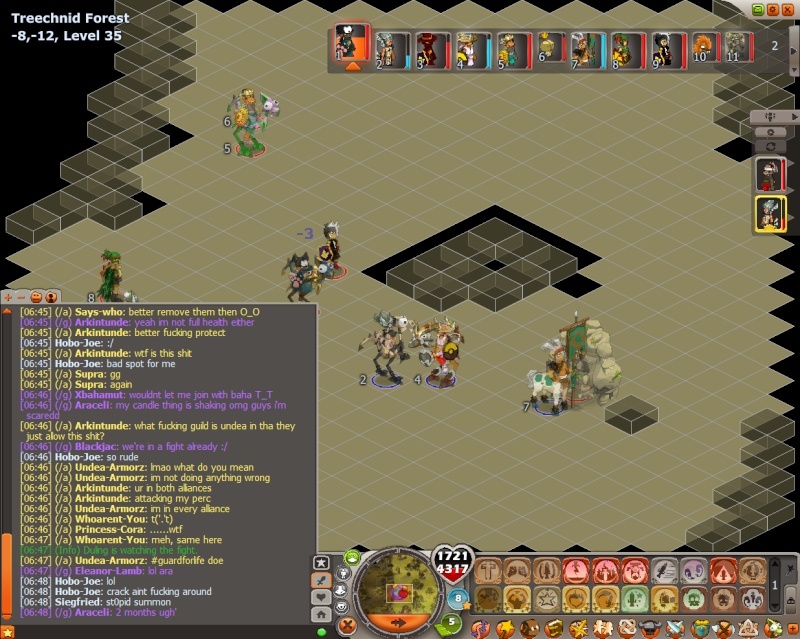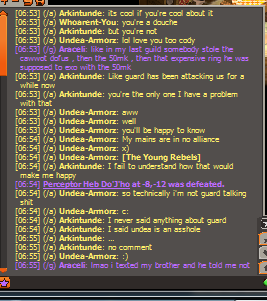 to be honest I think I have more of a problem with the way you handled this. Insulting others on a very public chat is extremely rude and if you had a problem with it I think talking more politely and privately would have been much better instead of making things worse.

_________________
Proud Leader of Night Rage



Posts

: 25


Points

: 39


Reputation

: 12


Join date

: 2013-08-02



I'll have to add to this complaint:
[09:37] Undea: i get to kill pirate
[09:37] Undea: i've waited for this moment
[09:37] Undea: all my life
[09:37] Undea: HUZAH
[09:40] The Perceptor belonging to the guild Old School Anarchy did not survive the attack at [-72,-79]!
[09:40] (/a) Undea-Armorz: [09:37] Undea attacks with Otomai's Sword. Critical Hit![09:37] Pirate-Bay: -586 HP (dead).
[09:40] (/a) Safranka: sry I dont do PvP...
[09:41] (/a) Seri-Awashima: Babe xD
[09:42] (/a) Safranka: you did atack perc of your own aly?
[09:42] (/a) Undea-Armorz: B)



Posts

: 382


Points

: 647


Reputation

: 105


Join date

: 2013-08-04



Undea is Adamant from Spirits Within and he is still hitting percs from Aeon.

Today his friends attacked a Frigost 3 prism and he joined with his char Adamant on Aeon's side and left match once it started.

One thing is percs, another is prism and deliberately taking a spot from our defense so we don't stand a chance.

Take action please.



Posts

: 87


Points

: 116


Reputation

: 13


Join date

: 2014-04-04



Undea and his alts are now banned in Aeon. His account nicknames (shown in /whois) include but are not limited to:

Givemenamepls (Undea)
UndeaBackupCharacter (Adamant, Undea-Nukez, Undea-Clawz)
xe-exion (Undea-Senpai)
tofunator-two (Undea-Prospectz)
Taste-of-Ink (Undea-Shieldz)
maxinedude123 (Ambiance, Undea-Topkajz, Spot-On)
matttedderteddertedder (Astana, Kiid-Haxxor, Guild-Experience, Lace-Up, Plot)
KillingThemSoftly123 (Fearless-Summonz, Clairita)

He may pretend to be helpful but please do not be fooled. History has shown that he is not to be trusted.



Posts

: 382


Points

: 647


Reputation

: 105


Join date

: 2013-08-04



---
Permissions in this forum:
You
cannot
reply to topics in this forum